Sunrise Rotary Club Dedicates Butterfly Garden
Posted on 06/08/2014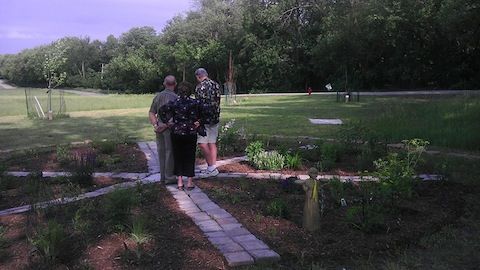 Saturday, June 7, 2014 Lincoln Sunrise Rotary Club dedicated the Butterfly Garden our club has worked on so diligently over a period of nearly a year with a lot of time and sweat equity. The dedication was opened by Renee Ninneman, Program and Outreach Coordinator of the Lincoln area Girl Scouts. She introduced Sunrise Rotary president, Lee Anne Call who welcomed everyone and introduced incoming president, Bill Dick, a resident of the Hilltop area, who shared the history of the area and thanked those who helped with the garden. Bill dedicated the garden to the memory of Marion and Bertrand Schultz, whose home once stood on the property.
Bill thanked Donna Wilcox, daughter of the Schultzes, who had the inspiration to plant the garden in the design of the Rotary Wheel, Sue Dawson for her expert advice on plants and help in planting and weeding the garden, Bob Schmieding of Schmieding Concrete for providing the concrete pad where the bench now sits, Campbell Nursery for the discounted price on all of the plants, Susan and her crew of Hilltop Foundation workers for watering, mowing and weeding the garden, Art Knox for the use of his tiller and David Chen for bringing a group of Chinese students from UNL who helped in the construction.
Lincoln Sunrise Rotary Club Members present for the dedication were Bill Dick, David Chen, Jean Bartlett and Lee Anne Call and her husband Bob. Members Dan Chapman and Minnie Stephens were traveling and not able to attend but also worked on the garden. Special guests present were Art Knox, Merle and Darlene Jansen, Bob Schmieding and his family, Jenny Cardwell, incoming president of Lincoln South Rotary and Girl Scouts representative, Renee Ninneman and several girl scouts and their families.
Bill charged the Girl Scouts with the responsibility to maintain and enjoy the garden with the hope that it will attract many butterflies and Girl Scouts in the years to come.
The garden was made possible because of a grant from the Rotary Foundation.