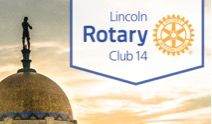 Becoming a Member of Rotary
Nothing could be easier than joining Lincoln's Rotary Club #14. Chances are you already know one of around 250 members who are among the leaders in our community. Your membership journey begins with attending a few regular club meetings to decide if Rotary is the right fit for you. If you and your proposer agree, your nomination will be placed before the club for consideration. Next, we'll welcome you into membership at one of our meetings. We gather every Tuesday at Noon at the Nebraska Club on the 20th floor of the US Bank Building downtown. As a new member, you'll be invited to participate in at least four of our NEOS orientation meetings. This gives you a chance to meet other new members and learn about Rotary Club #14. We'll provide opportunities to participate in club activities including greeting members as they arrive for our meetings, working with one of our committees, and helping coordinate meeting activities.
The object of Rotary is to encourage and foster the ideal of service to others. As a member of Rotary Club #14, you'll be given many opportunities to participate in one of the club's local and international service activities including: TeamMates, The Gathering Place, bell ringing for the Salvation Army, and dozens more. Once you catch the fever of service as part of Rotary Club #14, a world of opportunity will present itself through our effort to eradicate Polio, support our medical mission in the Dominican Republic, raise funds for a community organization, or even host one of the international students during their time in Lincoln.
Rotary Club #14 is celebrating more than 100 years of service to Lincoln, Nebraska, and the world. We're looking forward to welcoming you.