Salute to Business
Each year Rotary Club #14 partners with the Lincoln East Rotary Club, and Lincoln South Rotary Club to host a city-wide luncheon to honor a business or organization in Lincoln that has made a significant contribution to the city of Lincoln through employment of people and the good works they perform. The honoree is selected by ballot of the active members of the three Lincoln Rotary Clubs. The selected business for 2019 is Firespring. Our 2019 event will be on April 30 at the Marriott Cornhusker Hotel in downtown Lincoln. Click here for tickets.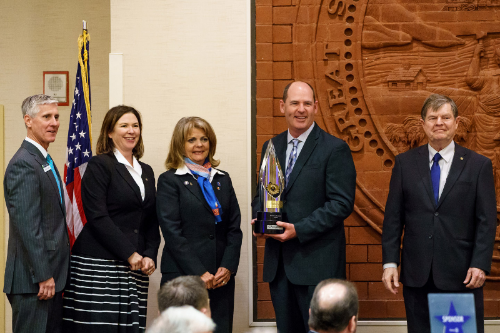 ---
All Lincoln Rotary Clubs and others in the Lincoln community convened to honor Olsson Associates as the 2018 Salute to Business receipient. Olsson is a major employer in the Capital City.  Olsson is a nationally recognized, employee-owned engineering and design firm with a rich history of success.
Founded in 1956 on the very mindset that drives them today, they work to improve communities by making them more sustainable, better connected, and more efficient. Simply put, they work to leave the world better than they found it. Their most important asset is their people, and they are dedicated to an environment where employees continue to learn, grow, and thrive. This entrepreneurial spirit has made them successful.
The result? Inspired people. Amazing designs. And projects with purpose. A win-win for all.
---
Past Salute to Business Honorees
1993 Goodyear Tire & Rubber Company
1994 Sandoz Pharmaceuticals (Novartis)
1995 Lincoln Telecommunications (ALLTEL)
1996 Duncan Aviation
1997 National Bank of Commerce (Wells Fargo)
1998 Ameritas Life Insurance Corp.
1999 The Gallup Organization
2000 Kawasaki Motors Manufacturing Corp., U.S.A.
2001 Valentino's
2002 BryanLGH Medical Center
2003 NEBCO, Inc.
2004 State Farm Insurance Companies
2005 Lincoln Plating
2006 B & R Stores, Inc.
2007 Douglas Theatre Co.
2008 TierOne Bank
2009 Runza® Restaurants
2010 Madonna Rehabilitation Hospital
2011 Assurity Life Insurance Company
2012 Crete Carrier Corporation
2013 Saint Elizabeth Regional Medical Center
2014 Tabitha
2015 LI-COR Biosciences
2016 Nelnet
2017 Speedway Motors and Properties
2018 Olsson Associates