Tuesday, October 10, 2017 12:00 pm - 1:00 pm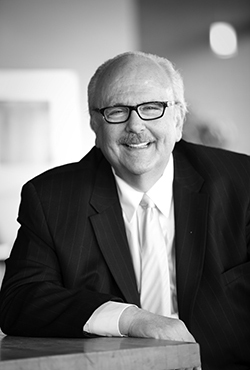 Description:
Generoso! Perhaps this Italian word best describes businessman, philanthropist and friend, Tony Messineo.
Whether it be heading up the Lincoln Downtown Rotary #14 auction, serving on the Nebraska Wesleyan
University's Board of Governors, or donating food and funds to organizations like Cedars, the Malone Center, the
Food Bank of Lincoln, Catholic Social Services or Matt Talbot Kitchen, Tony exemplifies the Rotary motto of
"Service Above Self." He leads by example and his contributions are legendary.

Anthony (Tony) O. Messineo, Jr. attended Pius X High School and graduated from the University of Nebraska –
Lincoln with a Bachelor's Degree in Business in 1964. In 1972, Tony, his brother Ron and their Alesio cousins
purchased Valentino's Restaurant and within two years opened a second store at 70 th and Van Dorn Streets in
Lincoln. With Tony's careful leadership, "Val's" has grown to include more than 35 restaurant locations and 20 "To
Go" takeout locations in four states. Tony currently serves as President of Valentino's and Managing Partner of the
Amazing Pizza Machine in Omaha.

His personal, professional, and philanthropic accomplishments are plentiful and have been widely recognized by
various organizations over the years, including the Restaurateur of the Year (1990, 2011), Cor Christi Award (1997),
the Lincoln Chamber of Commerce Cornerstone Award (1993), the Rotary Salute to Business Award (2001), the
Lincoln/Lancaster County Homeless Coalition Award (2002), the Chamber of Commerce Burnham Yates Citizenship
Award (2002), the Child Welfare League of America's Corporate Advocate of the Year Award (2003), the Rotarian
of the Year Award (2009) and The Benemerenti Medal (bestowed by Pope Benedict XVI in 2009).

As a patron, a volunteer, and a board member, Tony cares about his fellow Nebraskans and has shared himself and
his treasure with numerous organizations and children's charities such as Lincoln Children's Museum, Boy Scouts,
Make a Wish Foundation, Pius X High School, FFA, Lincoln Public Schools, St. Jude's Children's Hospital, Salvation
Army, Sacred Heart School (Omaha), Madonna Rehabilitation Hospital, and the Nebraska TeamMates Mentoring
Program. His care and concern for children also extends to the creation of the "High Five Club" recognizing grade
school students who demonstrate outstanding effort in the classroom and school activities with a free pizza and
recognition by Valentino's.

Most importantly, Tony loves his family. He and his wife Carmen (married in 1963) have three children, Debbie,
Michael, and Anthony, as well as seven grandchildren—Rachael, Julia, Katherine, Dominic, Samantha, Sophia, and
Mary.

We are so very proud to recognize Anthony (Tony) O. Messineo, Jr., as the 2017 Nebraskan of the Year.
This form stopped accepting submissions on October 10, 2017 12:00 pm CDT.