Salute to Business
Each year Rotary Club #14 partners with the Lincoln East Rotary Club, and Lincoln South Rotary Club to host a city-wide luncheon to honor a business or organization in Lincoln that has made a significant contribution to the city of Lincoln through employment of people and the good works they perform. The honoree is selected by ballot of the active members of the three Lincoln Rotary Clubs. The event is typically held in the Spring.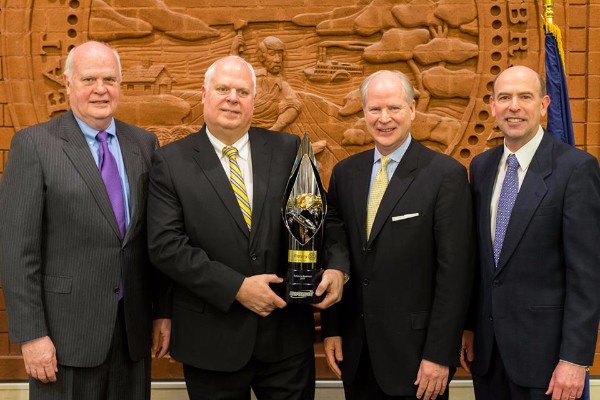 ---
Speedway Motors and Properties was the 2017 Rotary Salute to Business recipient. The award luncheon was held April 4 at the Cornhusker Marriott. Sponsored by all three Lincoln Rotary clubs, the event honors a local business that has made a major contribution to the city of Lincoln through the employment of people.
Speedway Motors is America's Oldest Speed Shop and has been a trusted source for specialty automotive and racing parts for 65 years. Founded in Lincoln in 1952 by "Speedy" Bill Smith – a racer, hot rodder and entrepreneur – Speedway Motors has grown from a one-man storefront to a worldwide multi-channel retailer and manufacturer with a longstanding reputation for personalized expert service. Still family owned, the company is now led by "Speedy" Bill and Joyce Smith's four sons – Carson, Clay, Craig and Jason.  
Speedway Properties is one of Lincoln's premier commercial real estate companies and holds dozens of retail, office and industrial properties which it owns, develops and manages. With a history of redeveloping older buildings and spearheading new development, Speedway Properties has earned numerous awards and has made a significant impact on the city of Lincoln.
The Speedway campus in west Lincoln is also home to the incomparable Museum of American Speed. This world-class facility is a fantastic showcase of racing and automotive performance history and a fitting legacy for the late "Speedy" Bill and Joyce Smith.
---
Past Salute to Business Honorees
1993 Goodyear Tire & Rubber Company
1994 Sandoz Pharmaceuticals (Novartis)
1995 Lincoln Telecommunications (ALLTEL)
1996 Duncan Aviation
1997 National Bank of Commerce (Wells Fargo)
1998 Ameritas Life Insurance Corp.
1999 The Gallup Organization
2000 Kawasaki Motors Manufacturing Corp., U.S.A.
2001 Valentino's
2002 BryanLGH Medical Center
2003 NEBCO, Inc.
2004 State Farm Insurance Companies
2005 Lincoln Plating
2006 B & R Stores, Inc.
2007 Douglas Theatre Co.
2008 TierOne Bank
2009 Runza® Restaurants
2010 Madonna Rehabilitation Hospital
2011 Assurity Life Insurance Company
2012 Crete Carrier Corporation
2013 Saint Elizabeth Regional Medical Center
2014 Tabitha
2015 LI-COR Biosciences
2016 Nelnet
2017 Speedway Motors and Properties