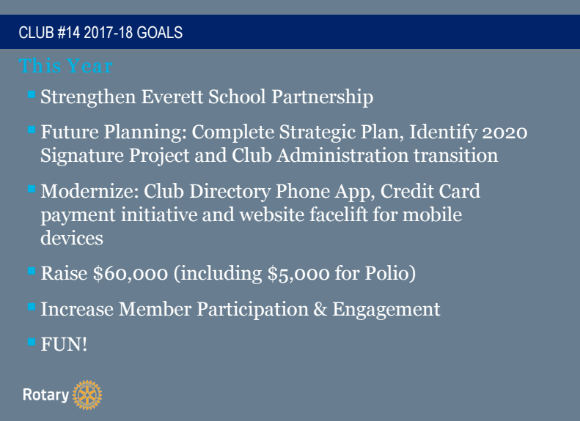 We're a large club with very active members. In Lincoln, we are involved in The Gathering Place, several mentoring opportunities for members, some recognition events including "Nebraskan of the Year" and "Salute to Business" and just recently we've turned our attention to Everett Elementary School. 
Rotary 14 is one of the oldest Rotary Clubs in the world, we're more than 100 years old and we have a rich history. But, that doesn't mean we're only focused on the past. Instead, we're building on a solid foundation of worthwhile projects over those 100 years and we're looking ahead to 2020 and beyond. 
While our membership average age may suggest we do things the old fashioned way, this year we're making a concerted effort to get all of our members online when they need to access our directory, or just pull out their phone and connect to the ClubRunner App. 
For years, Club 14 (as we sometimes call ourselves) has been raising money and growing our foundation. We're closing in on a two-million-dollar balance in our foundation. This year, we plan on adding $60,000 to that amount through our fund raising event, "Rise, Shine, Give." 
Finally, we're like any other organization, we have some very active folks and then there are those who show up now and then. Well, we're going to do all we can to spark a little more involvement, get everyone engaged and involved. And when we do, we hope our membership will grow.
Oh, and fun . . . we're certainly not a bunch of stuffed shirts. We laugh, we tease, we have fun because that's just the way we are.